Making time to read regularly with your children is an important part of literacy development, according to the State Library of Victoria's Rebecca Henson.
'Reading, as well as listening, speaking and writing, are fundamental to the development of literacy skills, including vocabulary and language development,' Rebecca says.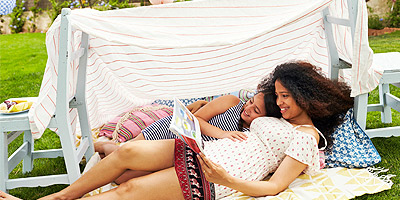 'The key is to have a regular routine for reading together at a time that suits you both.
Claiming even 10 minutes a day for reading together has been shown to make a difference.'
'If you can manage more time, that's great - as long as it's a positive experience.'
Rebecca says it helps to have books that match your children's interest, whether they are purchased, borrowed from friends or from the library.
'Children often take their cues from their parents,' Rebecca says.
'For this reason, it's important for adults to display a positive attitude towards reading - most easily expressed through being seen to spend time enjoying reading.'
Rebecca reminds parents that reading can be a part of social and community activities. Some schools and public libraries run book clubs for children, and book shops hold book launches and author events. Attending these events is a great way to create a more positive association with reading.